Sunday morning dawned chilly and frosty but it didn't deter me – it was our first rehearsal day for With A Little Help From Our Friends.
First rehearsals are pretty special things. You get the cast coming together for the first time. You often get the main heads of department showing up as well to stick their noses in and say G'Day. You get to see how well everyone gets along with each other. How well the lovers are going to be lovers, how well the villains are going to be villains. The first rehearsal is the first time you can really start to feel the weight of a film and judge exactly how much fun it's going to be to make.
With A Little Help From Our Friends is going to be ridiculous fun.
In between everyone (except Markus) showing up on time, the immediate laughter once we all sat down in a group to say hello to each other to the roaring laughter as we rehearsed various scenes, WALHFOF is coming along really really well. I've been completely spoiled with an amazing cast and I'm already looking forward to the next set of rehearsals to really dive into the characters and explore the relationships between the four characters.
We've got a few weeks in between rehearsals now, so we're thinking about various things separately – character, costumes, hair and make up etc – and I'll be chatting to the actors via email to see what we can come up with individually before bringing it forward at the next rehearsal – which is the weekend before the shoot.
The other thing we're considering doing is crowd-funding a section of the budget. The key is finding a model that works – some of the campaigns that are presented badly are 200% funded, some that are beautifully presented are struggling to get the full amount pledged. Something else to think about, at any rate.
I leave you with a few snaps of the rehearsal, courtesy of Craig. Enjoy!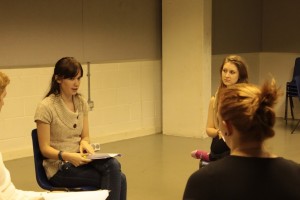 Alli chats to the actors at the beginning of the rehearsal.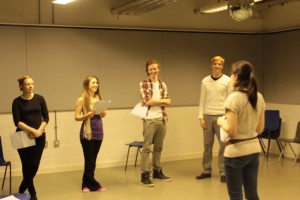 From left to right: Carolina Main (Lucy), Victoria Smith (Abby), Markus Copeland (Max), Danny Mahoney (Des) and the back of Alli's head.
Markus and Danny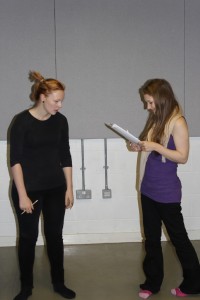 Carolina and Victoria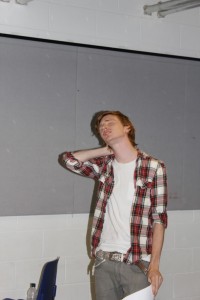 Markus exercises his angst face.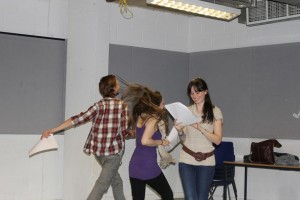 Abby and Max skipping into the sunset (improvised).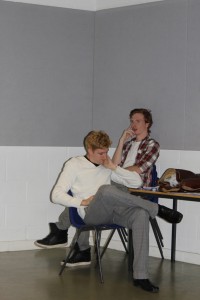 Markus and Danny take a break.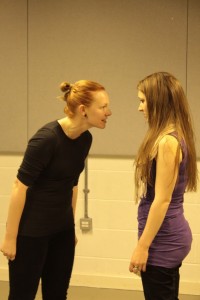 Lucy gets up in Abby's face.