For Day One, Part One, click here!
For Day One, Part Two, click here!
Day Two dawned chilly. I woke up early as I wanted to hit up our location at about 8.30am to start dressing the set – it was the one day that we had proper set dressing. I'd mocked up a bunch of posters for a noticeboard with varying design degrees to properly make it feel as though the set was a theatre academy. Trivia note: all the names barring four are names of backers of the film. So if you chipped in before the shoot, your name may well be in the film!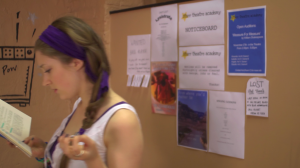 Abby (Victoria Smith) and my rad production design.
Knowing that we would have to motor fairly quickly through the day, I was keen to get there before the call time to start prepping things. The location contact said before he left that he'd be there from 7am and I knew that some people would show up a little earlier than the 9am call time, so I thought if I got in there early and started up, we'd manage to get the day off to a good start.
That kind of thinking is all well and good in theory, but when I showed up to the location around 8.30am and it was very much locked and empty and Jack (who had been dealing with the location) was twenty minutes away, I'd definitely say that I was a little concerned about starting on time. It was just after 9am that the location contact showed up and Jamie and Jim (DOP and camera assistant) were both early, so we very quickly chose a corner of the room that took our fancy and began to light it and dress it.
Victoria and I had decided the day before that she would plait a scarf into her hair (see above), which proved to be reasonably tricky to do. She tackled that whilst we prepped the set and tried to decide whether a jaunty angle for notices actually worked or not. I decided that they didn't.
The morning started to run away from us a little and we were suddenly running around forty minutes behind schedule. This scene was a little finnicky to shoot – there were particular moments that were important to get within their own shot and not in a wide or a mid shot. And, regardless of the promise that we were to have the place to ourselves for the Sunday, we managed to have about three people open the creaky door in the middle of a take. It's Murphy's Law that they never managed to walk in when we weren't rolling, always when we were.
But, regardless of that, we were suddenly moving along quickly. Markus and Victoria were getting through each shot in one or two takes (with rare exceptions for interruptions leading to a third take), we were catching up to where we were supposed to be and Danny and Carolina had appeared ready for their afternoon of shooting. After Markus and Victoria had finished falling in love, we called in Danny and Carolina to film one shot before we broke for lunch.
Running an hour later isn't catastrophically bad. But when I went outside to have a look at our next location and could hear a thumping of a choir practising Christmas carols in the studio out the back of the theatre, I couldn't help but laugh, albiet slightly hysterically. Sound issues plague every shoot, but this one seemed to be injecting absolutely everything into our Sunday to see what we could take.
But for now, it was lunch, so I was off to munch on some M&Ms and go over what else we had to shoot for the day.
Oh, and be teased for being Australian. You get used to it after awhile.