Happy Tuesday everyone! I hope you're all wonderfully well and being wonderfully creative and productive.
I'm very excited to announce the fact that 'With A Little Help From Our Friends' is 100% back on track, thanks to a couple of people I met at the Guerilla Filmmakers' Masterclass at the start of June. Say G'Day to Craig and Jack!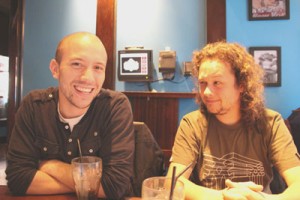 This is Craig. This is Jack.
On Saturday, we had our first production meeting about how we were going to tackle the project. As it currently stands, we've set in a provisional shoot date (the end of September) and started talking about locations, cast and crew. We're all going to chip in to cover the producer duties and on-set, Craig is going to be the First Assistant Director, Jack is in charge of sound and I'll be directing.
We still have a fair few gaps to fill at this stage, but we do have a bit of time to work with at the moment. I'm going away for two weeks (so the blog will be quiet, methinks), but hopefully the boys have enough to keep moving forward whilst I'm away.
At the moment, we're following up a few leads to lock in a location. The script is set at a university but we've also been considering schools that we might've been able to get access to as potential locations. Both Craig and Jack have been goldmines with this – as I didn't grow up around or near to London, it makes it a little more difficult for me to know about potential locations to have a look at outside of the area I live in. A little insider knowledge never goes astray!
We're also starting to think about cast. I imagine auditions will happen pretty quickly after I get back from my trip away (possibly the second weekend in August). This also means that I'm going to have to work on extra monologue-style pieces for the actors to read in the auditions, which I'm looking forward to writing. As well as cast, there's obviously quite large gaps in crew which we're going to have to start thinking about – at the moment, it is literally just the three of us running the show!
So now that we're off and rolling, there's more things to think about. I already know that pre-production is going to slip away disastrously quickly and I'm hoping that we'll be able to work together well enough as a team to stop anything too chaotic from happening. To be honest, we all work pretty well together as it is.
I have a list of things I need to do that keeps getting longer (as is always the way) but it feels like we're back on track and moving forward now, so I'll be stressed, tearing my hair out and panicking but loving every minute of it!
That's what it's all about!
Links