Wow.
So it's two days after we've wrapped and the dust has settled and all the cast and crew have headed back into normality. The shoot went really well, regardless of problems that cropped up here and there and we got everything we needed to shoot shot, so that's always a good thing.
I am still trying to collect myself afterward (jumping straight back into work the day after the shoot is a cool reminder of the fact you should always give yourself a day to sleep!), but the next few posts will be a break down of how the shoot went, so keep an eye out for them this week.
The indiegogo campaign is still running for another week and a half and now's the time when we have to start paying for everything. There's still time to get on board, just check out the campaign and contribute!
For now, I'm going to leave you with an EXCLUSIVE behind the scenes shot – the cast and crew of With A Little Help From Our Friends (click the image to make it bigger).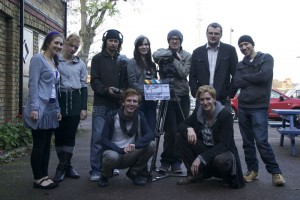 From left to right: Victoria (Abby), Carolina (Lucy), Jack (Sound), Markus (Max), Alli (Director), Jamie (DOP), Jim (Camera Assistant), Danny (Des) and Craig (First AD). Photograph courtesy of Oli Lewington.